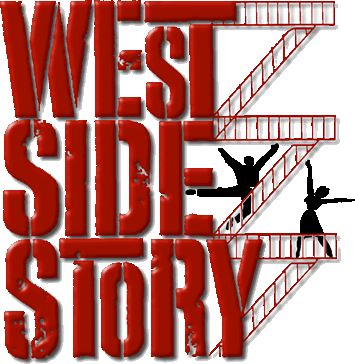 The reviews were fantastic and phones were ringing nonstop in the theatre's reception as everyone tried to get their paws on the coveted tickets to see West Side Story in Paris's Chatelet Theatre. December 2nd had arrived and I was wearing a new sparkly dress - courtesy of Zara - my favourite Dorothy Perkins' purple heels, a rabbit fur neck wrap and my new Longchamp handbag hanging off one shoulder. I looked every inch the theatre-goer.
I was certain that this would be a night to remember, that I'd literally be singing its praises for all to hear. And as a lover of heart wrenching romance and bursting into song, there really was no reason why West Side Story shouldn't deliver.
Sadly for me, this particular production of West Side Story fell flatter than a crepe (now that I'm in Paris, I'm abstaining from using the phrase ''flat as a pancake''). Imagine going to a restaurant which has received rave reviews and ordering the michelin star salmon only for it to be over-cooked to the extent where it can't be improved with a squeeze of lemon or a shake of salt. You're desperate to enjoy it but there's something stopping you from fully appreciating it because it's lacking a vital kick and frankly, it's a little dry and flaky.
Comparing West Side Story to a piece of pink fish might seem a little odd, but bear with me on the analogy front. Salmon is a delicious fish, much like West Side Story is a fabulous tale, but if the chef doesn't know how to properly cook the salmon, and the director doesn't know how to successfully direct his cast, you're left with something which is just about edible or watchable, but bland and unfulfilling. Your final product is a piece of fish, or a play, which had so much potential because the raw, untouched original had so much going for it, but it was placed in the hands of someone who lacked creativity. Instead of savouring each mouthful, or each moment of stage-time, you spend it thinking about how you should have been the one putting the icing on the cake.
Part of me is happy to blame it on the fact that nothing will quite match the lustre and skill of West End or Broadway. I'm in Paris after all, not London or New York. And there is certainly no Cameron Mackintosh lurking behind the red curtain. This time it is a German company who are producing Sondheim's grand oeuvre. The theatre's director Jean-Luc Choplin was desperate to bring the musical back to the Parisian stratosphere after its successful run five years ago, but this mark of success seemed foreign to me and I still struggle to accept its flawless ratings.
I wanted to see the actors bring the story to life, to live and breathe the stage they were standing on, but there was a lack of chemistry and freshness. The show's director Joey Mckneely explained how "believability" was a huge factor in casting his leads because "I always have to believe their love story" he said. His intentions were all too accurate, which makes my confession all the more painful because he was just off the mark. Believability was exactly what the show was lacking. I wanted something a little more edgy, more pumped, and oozing with vitality. Instead I felt deceived by the wishy-washy ''love'' between Maria and Tony which left me begging for a refund.
Maria's sweet youthfulness needed to be sung with a girly vibrancy which the lead actress just didn't grapple. I had to accept that the vocals of Marni Nixon in the 1961 movie production were simply unbeatable. The Maria on stage lacked the sensitivity and raw emotion apparent in Nixon's voice, replacing it with a matured operatic falsetto which gave a faux representation of the naive, love-struck heroine. Tony similarly took the notion of vibrato to new heights and was lacking in manly fecundity. I struggled to see why and how Maria would fall in love with the effeminate Tony who looked like he needed a scruff in the mud and a few Turkey sandwiches in him. Their duets were painfully unmoving and doing the odd large breath and semi-passionate sigh at the end of a note isn't going to make me believe it any more. Crackling voices, painful whispers, sob-style singing, clogged up throats and frozen vocal chords are things I can live with, because at least that would show genuine emotion. Best leave the Opera to Mozart.
Whether it's melodrama, opera or vaudeville, a successful performance requires an actor to use emotional memory to be believable. There's something telling about an actor's ability to experience the part during a performance whilst creating their own depth to the character which might not be inherent in the narrative. Yet for me, in this production of West Side Story, the actors hinged far too much on the narrative when they needed to go deeper. Of course a love story evolving over the course of two hours is nay impossible, but I was simply yearning for a bit of profound passion. I don't cry in The Notebook or Love Actually for nothing. Their duets needed to be more than just a shallow sound; to be the passionate unison of two people whose love can conquer all odds.
It probably didn't help that our seats were disappointing, but that's what you get for €22. It's never ideal when you're vying for the best view with a stubborn pillar for two and a half hours. But this minor detail shouldn't have been the be all and end all, and for such a big stage, I expected the passion to be bouncing off it left right and centre, invading each heart in the auditorium.
It's hard to fully pinpoint aspects of the performance which I disliked, after all, the dancing was beautifully choreographed, in time, acutely professional. If the emotion had matched the dancing, I would have been on the edge of my seat. I don't regret going to see West Side Story, but I was still left unimpressed with one of those anticlimactic hangovers that comes at the end of a performance which doesn't quite deliver.